What We Supply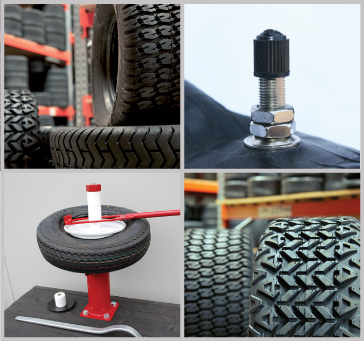 Whether you are looking for turf, ATV or trailer tyres, agricultural patterns in the smaller tyre sector or tyres for the grounds maintenance fleet - Redstone has them all.
You can be confident in drawing on a competent utilisation of products available to create a bespoke package for you. Your cutting-deck needs new wheels? Redstone has supplies. Puncture proof options? Redstone for Amerityre and Carlisle Reliance.
We stock a wide range of leading tyre brands including Carlisle, BKT, Deli Tire and Duro. Other available brands from stock include Bridgestone, Innova, Kenda, Kings Tire, Maxxis, OTR, Titan and Trelleborg. With our ability to supply most other makes on the market and with additional accessories and maintenance equipment, from tubeless valves to repair kits, you have everything you need for your tyre-fitting workshop.
Tyres have always formed the heart of our business. Although tyres for grounds maintenance are our speciality, we carry an increasing range of high speed trailer tyres and commercial van tyres, drawing on brands such as Compass, Hi-Fly and Security.
Now we are becoming established as market leaders in the distribution of
Terra-S Puncture Sealant. This upmarket brand has application in the Automotive, Industrial and Motability markets.
Product Sectors
1
Pneumatic Tyres
This is a broad subject and encapsulates the essence of why Redstone exists. Turf/Implement Tyres, Smooth Tyres, Agricultural/Industrial Tyres, ATV Tyres and High Speed Tyres – that says it all. This is what you can have confidence in.
2
Inner Tubes
This is an expanding market for us. From one angle, we say that we stock the full range but we need to know if there's a size that we've missed. Tell us and we'll investigate.
3
Puncture Prevention
This has got to be one of the favourite subjects. It's one of the roots to our Mission 'To establish and sustain movement and activity.' We capably meet the need with Terra-S Puncture Sealant, the Amerityre and Carlisle Reliance puncture-proof tyres and Puncture Resistant Tyre Liners where needed.
4
Puncture Repair & The Workshop
Our endeavour to eliminate downtime has not banished punctures in every application. This is why you'll find a range of Puncture Repair Kits and Repair Materials. Don't forget our range of Tyre Changers and Tyre Handling equipment.