Where We Specialise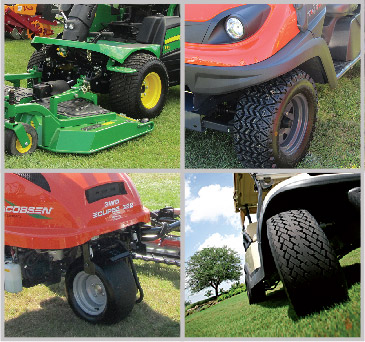 Our approach to the tyre market has always centred on specific focus and dedicated supply to the grounds maintenance sector.
It has always been recognised that stock availability and fast delivery are of paramount importance in serving this industry. Combined with this emphasis on service is an insistence on carrying a broad selection of tyres in stock, catering for a wide spectrum of machinery.
Our advice and experience, together with our knowledge of what is required, means that we can find bespoke solutions for your particular problem - saving you both time and money. Whether it is your machine or your customer's machine - please enquire.
The reputation that Redstone has gained largely stems from our knowledge of machines on the market and our focus on providing tyres that best meet the application. Mowers and Compact Tractors used by Grounds Maintenance Contractors, Fairway Mowers and Greens Mowers on the Golf Course or UTVs and ATVs in the Agricultural sector – they all become our key interest.
Market Sectors
1
Grounds Maintenance
For us, this covers open space maintenance, verge maintenance and grass cutting. We provide tyres for a wide range of machinery - solutions for the mower fleet. Our mission is to keep the contract going - however we can do it best.
2
Recreation, Sport & Leisure
Another key sector. For example, we actively help the tyre trade to serve the golfing industry by reckoning to stock and supply every type of tyre that has application at a Golf Club.
3
Agriculture
A very broad area throughout the UK. Our complete range of inner tubes and puncture prevention products, including Terra-S Puncture Sealant, assists tyre shops and tyre fitters nationwide.
4
Construction
So much is covered under this heading. Plant tyres, trailer tyres and heavy industrial. Redstone comes in, again, to provide inner tubes and puncture prevention products, including Terra-S Puncture Sealant.