Carlisle is our most popular premium brand and our biggest seller. So it's no wonder we carry a comprehensive range of Carlisle tyres for a large number of applications.
Below is an overview of the 32 tread patterns we currently stock.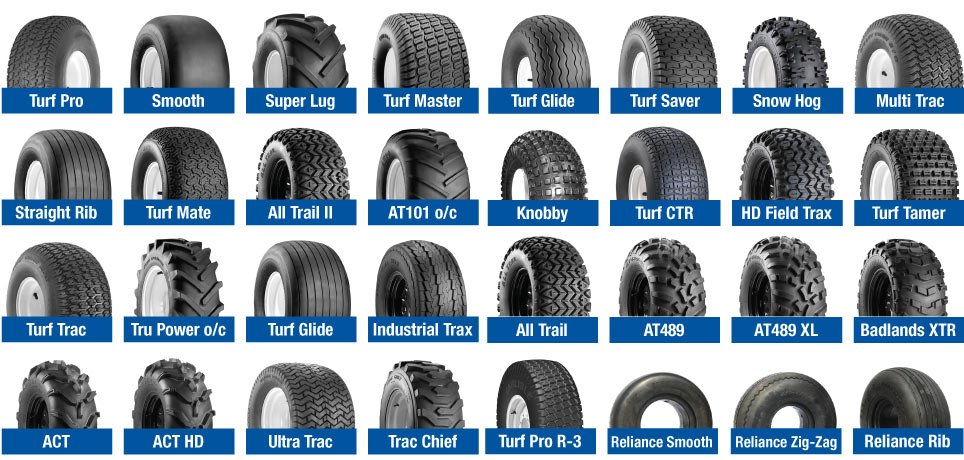 The Turf Smart tyre designed for heavy duty
premium grade turf equipment applications -
targeted for ZTR riding mower and other grounds
care equipment.


The tyre profile has been optimized
enlarging the contact patch where tyre meets
turf. An increase in surface-to-surface
contact improves traction and vehicle weight
distribution.

Fast Trax is a moderately aggressive low
profile drive tyre with a wide flat profile.
Used on professional riding mowers where
excellent hillside traction is needed.


Carlisle Fast Trax tyres keep your turf
protected from damage without sacrificing
traction. These turf handlers provide
pure traction in any conditions with their
classic bar tread design.

Carlisle designed the Mud Wolf to be the
toughest ATV mud tyre there is. Play
in the soupy stuff without sacrificing ride on
the trails. Mud Wolf ATV tyres have an
overlapping cut-out V tread pattern with
good siping between the treads.


The Mud Wolf's 6 ply construction delivers
excellent cut and impact resistance while its extra
deep tread pulls you through thick mud bogs.


We always want to hear from our customers if there is a demand for more.
Please fill in this form to help us stock what you need