Product Focus
Redstone Tyre Changers
Due to the popularity of the Redstone Tyre Changers, we are extending our Product Focus into July - have a read below, decide which tyre changer is best suited for your workshop, and place an order with us today.

Finding the right tyre changer depends on three elements – the size and quantity of tyres you change, the space available and your budget. At Redstone we have carefully considered all of these elements and invested time in developing key improvements to existing designs.

The result is a British made range of new generation tyre changers, designed specifically to make an awkward job easier.

The MTC811 is a compact bench top changer designed for small wheels and tyres. It combines bead breaking with tyre changing - an improvement over past models, ideal for bench-top use. Includes our unique, scientifically designed tyre-changing bar and an additional tyre lever.

The TC811B is a pneumatic/manual tyre changer that is ideal for workshops that cannot justify a semi-automatic machine. It features a powerful air-powered bead breaker that works on the vast majority of bead widths without having to adjust the height. Includes a pneumatic wheel clamp, changing bar and tyre lever.

The TC811BX is an extended version of our standard pneumatic/manual tyre changer (above). The TC811BX incorporates the small tyre changing abilities of the bench top changer to provide you with an extremely versatile workshop solution for fitting a large range of tyre sizes. Comes complete with our unique, scientifically designed tyre-changing bar in addition to the standard bar and tyre lever supplied.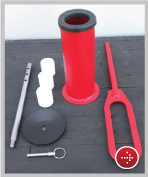 If you already have a tyre changer, then add the TK811X Extension Kit to upgrade its capabilities to small tyres and wheels.
The Dunlop DTM190, meanwhile, is a semi-automatic machine designed for use in busy tyre fitting environments. It's a robust, good quality machine that we can supply at an affordable price.