Excellent quality, great choice and superb value for money is what the Redwing range of
tyres stands for. RX Aramid is the broadest range of puncture resistant tyres manufactured
by anyone, offering great value alternatives for all of the leading manufacturers' machines.
It's the mark of great quality puncture resistant tyres you can rely on and an assurance of
quality and strength.

Our regular commercial turf tyre - with a range of 15 tyres - are tough, hard wearing and an excellent alternative to the BKT LG306.
This is the largest range of puncture resistant commercial turf tyres, offering a great alternative to the Carlisle Multi Trac. With a wide range of sizes to fit machines by John Deere, Toro, Kubota, Ransomes, Jacobsen, Ferris, Hayter and more.
A great quality, great value turf/implement tyre for hay bobs, tedders, rakes, trailers and more.
A heavy duty version of the turf/implement tyre for hay bobs, tedders, rakes and trailers, offering great quality, great value and greater load capacity.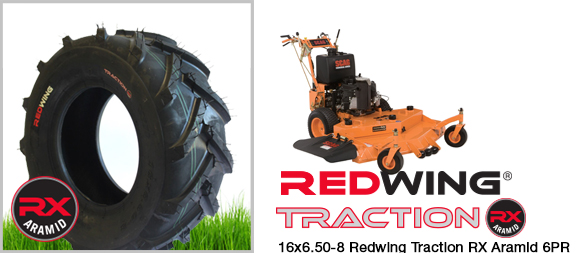 The first puncture resistant tyre for pedestrian mowers and a perfect fit for machines by leading manufacturers Ferris, Great Dane, Scag and more.