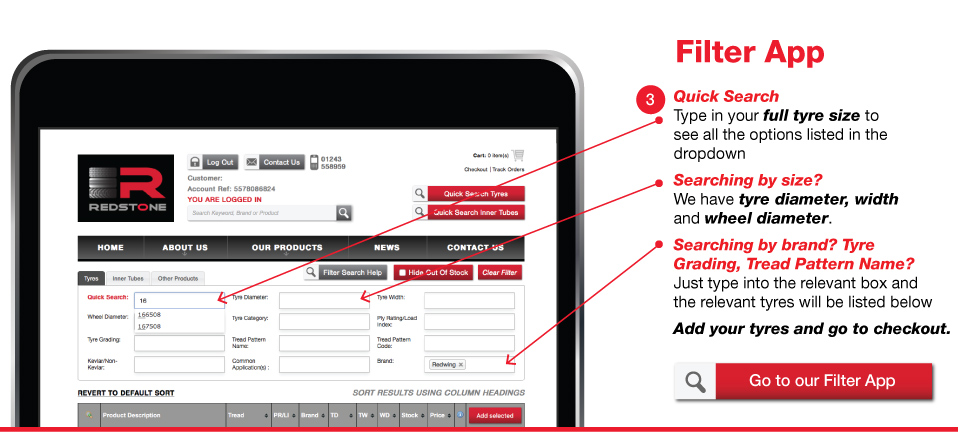 The main purpose of this filter app is to quickly and easily narrow down your product search, using any or all of the filter boxes as necessary.
In the example above, all of the boxes are filled in, to show all of the different attributes connected with this particular product.

For a detailed breakdown all of the relevant possible attributes are listed below.

Tyre Diameter
Mostly use the overall diameter of the tyre in this box, except where you only have two dimensions e.g. 6-12, width with an aspect ratio e.g. 185/75R16C or two measurements together e.g. 4.80/4.00-8.

In these cases, input 6, 185/75 and 4.80/4.00 respectively.
Tyre Width
This filter only has application to tyres with three dimensions. The width will always be the middle number e.g. 20x10.00-8
Wheel Diameter
The wheel diameter is always the last digit within a tyre size, in inches

Tyre Category
Turf/Implement
Smooth
Agricultural/Industrial
ATV
High Speed
Puncture Proof

Tread Pattern Type
Multi Rib
Smooth
Turf Implement
General Turf
Fairway
Square Shoulder
Round Shoulder
Commercial Turf
Grassland
Knobbly
All Terrain
Flotation
Turf Aggressive
All Weather
3-Rib
Open Centre
Skidsteer
ATV Speed
ATV X-Drive
ATV Knobbly
ATV Directional
ATV Aggressive
High Speed

Ply Rating/Load Index
Ply ratings – an indication of the load carrying capacity of a tyre – range from 2PR to 14PR. Where a ply rating is not shown, a load and speed index will be given e.g. 100A8 or 104/102R.

Tyre Grading
Budget
Middle
Premium
Tread Pattern Name
This will be the code or name given to the tyre within the product description e.g. Multi Trac (Carlisle), LG306 Turf (BKT) or DI2010 Buffalo (Duro).
Kevlar/Non-Kevlar
As the heading suggests, select either Kevlar or Non-Kevlar as required.
Brand
This list details most of the applicable brands on the website but may not always be exhaustive.
Alliance
Amerityre
BKT
Bridgestone
Camac
Carlisle
Cheng Shan
Cheng Shin
Compass
Continental
Deli Tire
Duro
Galaxy
Hadsten
Hi-Fly
Innova
Kenda
Kings Tire
Linglong
Maxxis
Michelin
Mitas
Nankang
OTR
Qingdao
Redwing
Security
Sonar
Superking
Titan
Trelleborg
Wanda
Xtra-Seal