The Best Value Range on the Market...




from the Tyre Service Experts.

Tube Repair Units
Tube repairs are non-reinforced and designed principally for use on inner tubes. These repair units are twice as strong as the tube being repaired and have a feather-edge design to prevent chaffing. When repairing inner tubes, buttonhole the ends of the injury and select a repair unit at least twice as large as the injury being repaired.

Universal String-Type Inserts
An excellent emergency repair when a full service repair facility is unavailable. Made of a butyl rubber, these inserts are very strong, allowing easy insertion through steel belted radials. Perfect for repairing lawn tractor, golf cart, ATV, and other off-road tires.


Rubber Vulcanisation Inserts
Xtra-Seal manufacture a wide variety of vulcanizing inserts that fulfill the industry repair requirements of "filling the injury". When used with vulcanizing cement, these repair inserts will vulcanize, sealing the injury and becoming a permanent part of the tyre.

Combination Units
Combination repair units fulfill the industry repair requirements of "filling the injury" and "patching the inner liner". Use when the injury angle is 25 degrees or less. Fast, effective, and easier to use than traditional 2-piece repairs.


Tyre Repair Kits
Whether starting up a tyre repair service center or in need of a compact emergency repair kit, these kits will meet your needs.
Chemicals
Xtra-Seal manufacture the widest selection of tyre service chemicals in the industry today.


Mounting/Demounting Compounds
To prevent damage to tyre beads, use quality Xtra-Seal Mounting and Demounting Compounds.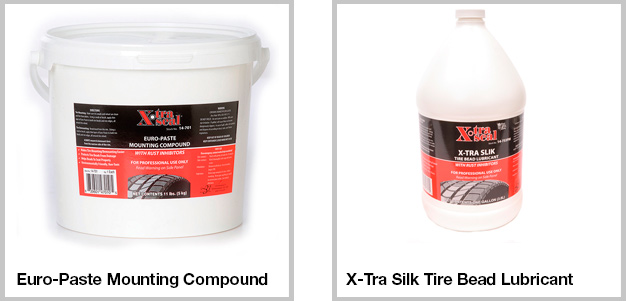 Tyre Repair Tools
A tyre repair can only be successful if the technician is well equipped to do the job...


If you would like any more information, please get in touch.